Welcome to this edition of News for the Week—a look at boomer travel ideas, news and deals.
From Donna:
It's been another busy writing week for me—and another one to go. I published the first of three articles that I'm really excited about. So scroll on down to read about a fall ferry trip in Canada.
I'm in the mood for a waterfall hike. If you're traveling to Grand Escalante in southern Utah, here's one of my favorites—Lower Calf Creek Falls trail. By the way, My Itchy Travel Feet will be featuring hiking, both USA and domestic, in September.
Keep up with My Itchy Travel Feet the easy way. Subscribe here.
From Nicole:
Nicole is still on vacation but will be back next week. I can't wait!
This Week's Articles
Are you looking for fall travel ideas? You'll love this fall ferry trip in the Southern Gulf Islands of British Columbia sponsored by Hastings House.
Teresa Otto shares the charms of spending three days in Hoi An, Vietnam. If you enjoy history, culture and food, this article is for you.
Updated this week:
Will your Mediterranean cruise visit Cartagena? I've updated my tips for a self-guided Cartagena, Spain walking tour. This is one of my favorite Spanish ports!
Travel Deals for Boomers
We're on the hunt for the best travel deals for boomers. Look what we found for this week: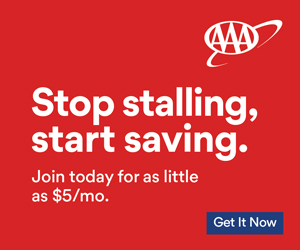 We belong to AAA, do you?
Are you looking to save money on upcoming travels? Send us an email. We'll check our resources for you.
More Travel News for Boomers
MITF featured writer, Debi Lander, writes about food and adventure on an Uncruise to Alaska for Real Food Traveler.
Are you a foodie traveling to Asia, Australia or Europe? Travel + Leisure shows you where to eat.
Considering that Asia is our featured travel destination for August, sharing news about 3 new resorts in Vietnam seems most appropriate.
That's all for now but we really want to hear from you. If you have a question about travel or suggestions for our next boomer road trip eguide, please send an email through our contact page.