Are you a baby boomer who enjoys traveling by kayak? Alan and I had our first kayaking experience while sailing last fall on a combination American Safari and InnerSea Discoveries cruise. We enjoyed kayaking enough to want to try it again. In today's guest post, Robert Pirozzi of Travel New England, offers up kayaking ideas on the Northern Forest Canoe Trail.
Are you looking for a fun outdoor adventure for your next active baby boomer vacation? You know, the kind of trip where you end the day tired, but it's a good tired that comes from a lot of fresh air and healthy exercise. Well how about canoeing or kayaking the Northern Forest Canoe Trail?
What is the Northern Forest Canoe Trail?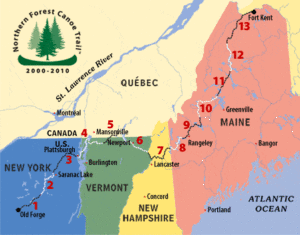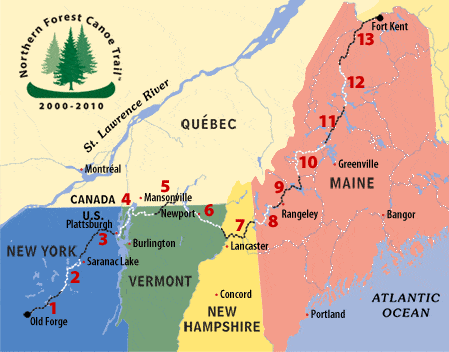 Officially opened on June 3, 2006, the Northern Forest Canoe Trail is a 740 mile paddling route that starts in Old Forge, New York and ends in Fort Kent, Maine. The trail follows Native American routes, hence it is named after their traditional mode of transportation, the canoe, even though the trail is appropriate for both canoe and kayak. Traveling 740 miles, the Northern Forest Canoe Trail passes through 147 miles of New York, 174 miles of Vermont and Quebec, 72 miles of New Hampshire and 347 miles of Maine. In that distance, it traverses 22 rivers and streams, and 56 lakes and ponds. There are also 55 miles of portages (yes, there are places where you must carry your canoe or kayak). To traverse the full length of the trail requires the ability to pole upstream, descend up to class IV rapids, cross large lakes and even carry your canoe or kayak from one body of water to another.
Something for Every Baby Boomer Paddler
Now before you dismiss this as sounding like a lot of hard work for only the most expert of baby boomer paddlers, understand that along its 740 miles the Northern Forest Canoe Trail has a little something for every paddler — from novice to expert. Paddlers of all abilities can find something to meet their needs, abilities, and time frame whether it's a nice one-day or evening paddle, or a more strenuous weekend trip, to trips of a week or more. Paddling adventures can be planned so that they are entirely back country or to pass through a mix of wild and developed terrain. Unlike hiking trails such as the Appalachian Trail, the Northern Forest Canoe Trail passes through some developed areas of the 45 different communities along the trail.
The trail has 13 contiguous sections that are well mapped out with information on access points, campsites, lodging, paddling routes, portage routes and more. In addition, the Norther Forest Canoe Trail website offers excellent trip planning resources including suggested itineraries.
Going for the Whole Thing
If you are an expert boomer paddler looking for a classic person versus nature vacation challenge, you could attempt to travel the whole 740 miles. Be forewarned: this is more than a two-week commitment of time as the fastest through paddle so far took 32 days. To date fewer than 50 people have traveled the entire distance of the Northern Forest Canoe Trail, either at one time, or taken in sections.
Easy to Get To Access

The Northern Forest Canoe Trail is within a day's drive of many major metropolitan areas including Boston, Montreal, and New York City. So throw the canoe or kayak on the roof of the car and head on out. Whether you are going for a nice serene flat water paddle on a lake, or a weekend of paddling from one country inn to another, or a bone jarring trip through rapids combined with back country camping, the Northern Forest Canoe Trail is there for you to "dial-up" or "dial-down" whatever type of baby boomer adventure you are seeking.
Photo credits: The pictures and maps in this article were provided by the Northern Forest Canoe Trail and are used here with their permission.
Are you a baby boomer kayaker? Join the conversation at the My Itchy Travel Feet page on Facebook or send us an email to ask a question or share your experience.